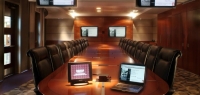 Are you a local business owner who needs a presentation or training room? Are you looking for technology solutions for your school? Angelo Solutions in San Angelo, TX specializes in installing video/audio systems for both homes and commercial projects in the area. We deliver superior work, high-quality equipment and a true warranty. If need be, we're glad to customize systems to fit more specialized needs.
Home systems
All of our home installations are carefully designed to fit your needs. We know audio/video systems can be confusing and overwhelming. Let Angelo Solutions handle it. We are experts in not only the science of making your system outperform your expectations, but also the art of creating a design that looks as good as it sounds. We can set up home entertainment systems, media rooms, and even outdoor living spaces.
Commercial systems
We are one of the area's leading providers of commercial Audio/Video systems. We install systems for bars, restaurants, business training spaces, schools and more. We pride ourselves on providing excellent service and can meet the needs of everything from large sports bars to elaborate nightclubs with video DJ displays.
There is a growing demand in the San Angelo area for training rooms with Audio/Video components and computer interfaces. To meet this demand, Angelo Solutions has developed a number of systems to fit all sizes of training and meeting spaces. Talk with one of our professionals today!