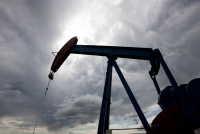 Angelo Solutions Has Oil & Gas Solutions
Over the years, our business has grown in unexpected ways. We have worked hard to provide superior service, and as a result, we've been able to expand our business to include oilfield services. Angelo Solutions offers a wide range of oilfield electronic solutions for communication systems, fleet tracking and fleet management systems, and all general electronic components.
Fully-Equipped
Starting in 2012, Angelo Solutions drastically expanded our oilfield service operations. Our current customers include some of the largest energy service and production companies in the world, so we fully understand the pace of business, as well as the demands placed on their equipment. We now specialize in a wide range of oilfield electronics maintenance, including:
Mobile Data Vans

Fluid Vans for Frac Operations

Preventative Maintenance of Sensors

Satellite Communication Systems (Sales and Service)

Safety and LED Lighting

Cell Phone Boosters

Vehicle Lighting (GoLights and LED Bed Lighting)

Inverters

Computer Networks
Full-Service Solutions
Our San Angelo, TX staff is highly trained and equipped to service electronic components from sensors and lights, to frac comms and clean power inverters. We offer a wide range of preventative maintenance plans to service electronic components for data and fluid vans, as well as frac equipment and mobile networks. In addition, Angelo Solutions services task specific and proprietary computer systems.
Update & Upgrade
We also offer data and fluid van remodel services to update your equipment with the most recent technology. We can correct any cosmetic or efficiency problems you might have, including layout, lighting, paint, air conditioners and computer systems.